Welcome
We are committed to legislative efforts in New York. As members of ACA- NY you assist us in identifying legislative issues that impact our profession and clients. We serve and mobilize members to take action on the identified issues. Professional advocacy and advocacy for our clients is a continual task for all students, clinicians, school counselors, administrators, supervisors, and counselor educators to be apart of.
On this page, you will find information to keep you up to date on current issues related to the counseling profession within New York State, as well as, the nation. You will also find details on how to how to take action.
If you are interested in being more involved on a special committee or activity, then please contact Barb Rauscher (
[email protected]
).
New York State Legislative Affairs
The ACA-NY leadership recommends that you:

1. Educate yourself about the issues by reading our materials on the
scope of practice
problem and our
opposition to a permanent exemption
licensure of mental health workers. There are materials located on the ACA-NY website or follow the link to the documents.

2. Arrange a meeting with your
Senator
and
Assembly Member
. If you are unable to arrange a meeting, please call or send an email to let them know about the scope of practice issue and its importance to you.

3. Consider
organizing multiple professional counselors and counseling students
to attend the meeting.

4. Recognize that
your legislator does wish to hear from you
about your concerns and that they will listen best if you have been respectful to them and their staff.


During your meeting:


1.
Introduce yourselves.


2.
Thank the legislator and/or staffers
for their time, as you recognize that many citizens are advocating for a variety of concerns.

3.
Share some anecdotes
about your concerns: how are you as a worker or potential clients harmed by the current state of affairs?

4. Be clear that you are asking him or her to
support the inclusion of the word "diagnosis" in the LMHC scope of practice
and
oppose permanent exemption from licensure in mental health
. Furthermore, you want them to
share your requests with Higher Education Committee Chairs:
Deborah Glick (Assembly) and Kenneth LaValle (Senate). Share copies of the materials that you downloaded from our website.

5. Exchange business cards and
ask them when you can follow up
.


After the meeting:


1.
Share the outcome of your meeting
with the ACA-NY Board by completing the
Advocacy Visit Form
.

2.
Follow up
with your legislators' offices when you said you would.


For more information about ACA-NY, visit http://www.counselingny.org

Thank you for your advocacy,

The ACA-NY Leadership Team

National Legislative Affairs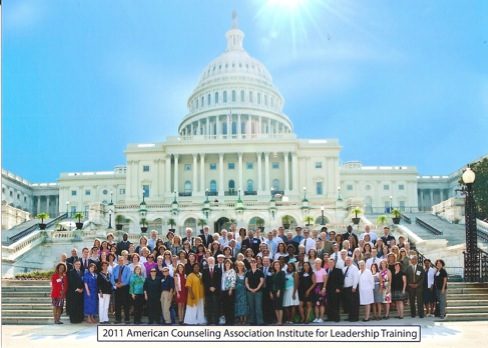 Several members of ACA-NY leadership, including Summer Reiner, Bob Dobmeier, Barb Rauscher, Victoria Palmisano, and Tracie Swalbach attended the ACA Legislative Institute. We lobbied on Capitol Hill with our Senators, Chuck Schumer and Kirsten Gillibrand. We also communicated with our respective Representatives. We asked our lawmakers to add recognize counselors as Medicare reimbursable. We also asked them to support additional funding for school counseling positions.

How to Communicate with Congress

Lessons From Recent Research (from http://counseling.org/PublicPolicy/Washington.aspx)

Thirty years ago, no one e-mailed their member of Congress. Today, millions of Americans do. What many people don't realize is that members of Congress have virtually the same number of staff today that they did in the 1970's, despite the explosion of the telecommunications industry and the growth of the U.S. population by roughly a third.

What does this mean? It means that form e-mails and letters no longer work. Congress has had enough of them. Lawmakers are still hungry for information about what their constituents really think, though, and on most issues even a small number of contacts can make a big difference. In order to be effective, contacts need to be individualized.

On Thursday, November 20th ACA hosted an hour-long conference call with counselors from across the country to hear from an analyst with the Congressional Management Foundation on the current state of communications between constituents and members of Congress. Click here to listen to the audio of the call and see the PowerPoint file used.

ACA needs strong, effective grassroots support to succeed on the public policy initiatives we're pushing to advance the counseling profession. Thank you for getting involved!

Effective Advocacy Document from ACA- Click Here

Call To Action

Visit ACA's website for information on how you can take action on National issues related to counseling: http://capwiz.com/counseling/home/

Resources and Reports

Visit ACA's website for national public policy resources and reports for counseling related issues:
http://www.counseling.org/PublicPolicy/TP/ResourcesAndReports/CT2.aspx

Policy Links

Visit ACA's website for national public policy links for counseling related issues:
http://www.counseling.org/PublicPolicy/Links/TP/Home/CT2.aspx